Well as Christmas is a few mere few weeks away i thought i would share the following with you!
They will make a fantastic present...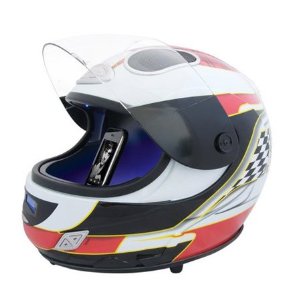 I have one and the sound is fantastic and looks really great as well
 Full Size Replica Helmet Sound System in 2 styles: Moto GP (Red)
 iPhone/iPodDockbehindmotorized'Visor'– Universal Dock for most Apple i-MP3 products*
 Blue LED Lights up Dock Area
 iPOD Recharge Circuit in Dock
 USB Port & SD/MMC Expansion Card Slot for MP3 Playback (up to 2GB Max)
 Built-in 2 x 7w RMS Stereo Speakers in Top of the Helmet
 Built-in 15w RMS Subwoofer in base of helmet
 EQ 5 Settings
 Audio Input for use as PC or Laptop Speakers via Line-In Jack (3.5mm dia.)
 Push Button Controls: Volume, Mode, Play/Pause/Open/Close/Skip+/Skip-
 Play/Pause/Track Fwd.-Rev Mode Buttons
 Fm Digital Tune Auto Scan Radio with blue backlit LCD Display
 Station Memory Pre-sets: 20 FM
 FM Wire Antenna
 Full Function Remote Control supplied
 Bass / Treble control via Remote Control
 Powered by 12V Mains Adaptor (supplied)
RRP is £149.00 but for club members they are only £129.00
If you want one let me know, i have only 4 left out of 25 and when they are gone they are gone.